What our guests say about
Perran Springs Holiday Park
"There really isn't anything to dislike, from the immaculate shower/toilet block to the lovely lady in the shop! (my children to a real shine to her!) It is the perfect place to kick back and relax. My husband, myself, 5 & 7 year old children and a dog were perfectly catered for, The surrounding areas are beautiful too. We will most certainly be back!"

"When we arrived at Perran Springs and checked in we went to our pitch which was a very good size the staff were very friendly and helpful. The park was immaculate and very good facilities."

"We love this place. We added a note to our booking saying we would like to be pitched in the same place and they listened. We were greeted by the lady who said she had dug out last year's plan and checked where we were and put us there. We felt very welcome."

"The showers were extremely clean, the best we have seen on a campsite, each had individual private changing areas so none of your clothes got wet, and the showers were nice and hot and free to use. Finding this gem of a campsite was a great result, and we will be returning later in the year."

"The showers were extremely clean and always hot, good clothes washing facilities, a number of sinks located throughout the site (with hot water) for washing up and a freezer for ice packs. We would definitely stay again!!! We would have moved in if we could!!!"

Our holiday was so relaxing at Perran Springs. The Park and Lakes were pristine. It was a pleasure to wake to sunshine and beautiful views of the park. The shower units were second to none. so squeaky clean and all fixtures shone. The family who live on site are extremely friendly and helpful. We did not want to leave for home - we will be back !!"

"The site is extremely well kept. The owners were very friendly and accommodating. The pitches are a good size and everyone is pretty close to the shower blocks. I particularly like the open air sinks with hot water dotted around the site." 

"Had a fab time ,the park is very well kept and the toilets and showers are the best we have seen. You will not get a cleaner shower block than this one."

"Perran Springs was the best value for money. The outdoor sinks were spotless and the laundry room clean well maintained. We have now booked to stay again, recommend the site to everyone"

"It was a relaxing stay on a quiet park, just what was needed before the kids go back to school. Park areas good, kids had plenty of space to run around and made some friends down at the play area. Walks around lakes seeing the ducks was a hit with the kids. We had a lovely time."

"Liked the amount of space we had for our pitch, never had so much space when camping. Reception was very helpful when we arrived. The showers and toilets were very clean and well looked after. Plenty of water points and sinks."

"Another great stay at Perran Springs. This was the third year we have spent our two week holday at the site. We have a large tent and utilise the electric hook up. The location of the site is great if you want to explore Cornwall, we were not far from any location and did plenty of exploring. Perranporth is the closest seaside town and had a great beach and facilities."

"I have just returned from a super five day stay in Cornwall, at Perran Springs. It was my first camping trip for about 25 years and my son's first ever! We had a lovely big pitch, with an electricity hook up. The staff were extremely friendly, helpful and worked hard to maintain the clean campsite and facilities."

"The park grounds are immaculate and the pitches are a very good size.The shower and toilet facilities are the best that we have seen. If you want a really relaxing holiday you will not find a better place."

"We have just returned from a lovely holiday in Cornwall. We chose the site as it was dog friendly and in a good location. The pitch we were allocated was plenty big enough for our large tent, with plenty of room for car, windbreak and table and chairs outside. It is in a really pleasant setting with trees and well kept grass."

"We had a wonderful holiday at Perran Springs Holiday Park. Checked in straight away, grounds are lovely, beautiful lakes, with excellent clean and well-kept facilities. Stayed in the Super Eurotent, which we would highly recommend. Excellent equipment, we didn't need or want for anything."

"It was my first time at Perran Springs but my family have stayed a few times before. We stayed in one of the caravans. The caravan was absolutely spotless. I will definitely be coming back to Perran Springs again 😀 and I thoroughly recommend it!!!!!"

Thank you Perran Springs for once again making our holiday a brilliant one! The Cormorant caravan has all the facilities you need for a great stay. A wonderfully peaceful place, in a stunning setting. 6 of us in our family were well catered for and enjoyed ourselves completely. It was nice to take a relaxing stroll around the Fishing Lakes and see buzzards and feed the brood of young ducks. Love this place. We have stayed in both Eurotents and Caravans here and both are brilliant."

"Just returned from a super week, staying in the Lapwing at Perran Springs. I have to say the facilities are first class, an ideal location with well kept grounds. The Web site shows a very accurate representation of what to expect. You will not be disappointed."

The Pods are fantastic!! This is a lovely campsite run by a friendly family. Well worth checking out if you want to stay near Perranporth. The wooden pods are amazing!! The Pods We stayed in a wooden pod which I believe was the debut year for this glamping option at this site. The pod was a decent size and the price was great. It does what it says on the tin.. it's camping but with a wooden roof over your head.

Family Holiday We camped at Perran springs for 2 weeks this summer. This is our 12th year on this site and we love it and more importantly our 4 children love it. The site is clean very quiet and the staff are great

Bank holiday camping holiday This is the second time we have visited Perran Springs and yet again, we were not disappointed. From the moment we checked in at reception, Mike and his lovely family couldn't do enough for us. The site is well set up, perfectly maintained and beautifully tidy. The facilities are perfect for everyone from lone campers to full families. The fishing lakes and nature reserve are a site of natural beauty and must be experienced by anyone visiting. The hosts are very welcoming and will endeavour to ensure every single guest has an enjoyable stay. They definitely achieved this with us! Thanks for a perfect stay-cation!

"WOW………… Burt Baits went down to Perran Springs Holiday Park yesterday. Seriously impressed doesn't even come close to describing the venue. On arrival, the welcome was fantastic! The owners and staff are so friendly and happy, nothing is too much trouble for them. Walking around the park it was apparent that alot of time and effort goes into making sure everything is well kept, clean and tidy. The shop is well setup with all your essentials to hand. The 3 fully stocked lakes look unbelievable, it would be easy to think you was sat around an old estate lake. Tony Wynnick , Chris Hancock and Tony Oatley fished a few different methods between them and all had plenty of carp, tench, bream and some monster roach. Every fish fought like it hadn't been caught before and they were stunning condition. When we finished fishing it was time to stock the tackle shop with a range of Burt Baits groundbaits, liquids, pellets, etc. Unfortunately it was then time to head home, but i can tell you one thing for sure, it will not be long before we turn up again. If you're looking for a fishing holiday in the uk, it really doesn't get much better than this!"
Family Camping
For a fun camping holiday, choose one of our spacious and level camping pitches. Combined with our relaxed environment, electric hook-ups and space for your car, you're sure to enjoy the under canvas experience. For the more traditional camper we also provide pitches without electric, but don't worry, our superb shower facilities are just a short walk away.
Touring Caravan
Looking for a spacious touring pitch, great facilities and a peaceful location. Then book one of our level caravan touring pitches or hardstandings, all with space for your awning and car. Our award winning showers, shop, laundry and lake meadow will ensure you have everything to make your holiday complete. See our park map to choose your preferred area of the park before booking.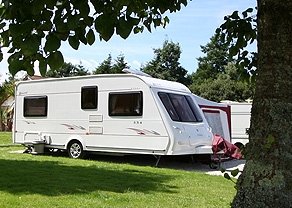 Holiday Homes
Our 6 berth Caravan Holiday Homes, offer all the essentials for those who want a little bit more… Featuring open plan living rooms, fully equipped kitchens and either two or three comfortable bedrooms. To help you relax, the caravan includes a TV and DVD player and plenty of soft seating. With a wooden picnic bench and space for your car, you can enjoy sitting outside or dining al fresco!
Super Eurotents
Want to go camping without buying all the equipment? Then choose our pre-erected, already pitched, fully equipped Super Eurotent glamping option. Sleeping up to 6 people, they are an amazing camping adventure for families. Super Eurotents have a kitchen area with hob, microwave, fridge, toaster and kettle. Three bedroom sections and a table and chairs. Book this holiday and you will see the glamping difference.
Pods
Like the idea of camping, but not the canvas! Then our glamping pods, with parking space, provide the ultimate back to nature experience. Sleep cosily in the timber pod, wake up refreshed and take a shower in our award winning amenities. Once you're ready for the day, just lockup your pod and maybe take a stroll around our Nature Trail and Lake Meadow, or venture out and start to explore Cornwall.
AWARDS & ACCREDITATIONS OVER THE YEARS….
Visit Cornwall Member
BH&HPA Full Members
David Bellamy GOLD Conservation Award Winner
Trip Advisor Winner
Loo of the Year Award Winner
Camping and Caravanning Club
South West Tourism Member
Website of the Year Winner
Recycle for Cornwall
COAST Project Member