Stationing your Touring Caravan on a Seasonal Pitch
at Perran Springs Holiday Park
2018 Seasonal Pitches fully booked already!!!
Please get in touch early for a space in 2019.
Choose a Seasonal Pitch at Perran Springs and get away for holidays and short breaks without the worry of towing your caravan each time you visit, or needing to pre-book your pitch – just arrive, sit back and enjoy your holiday.

The 2018 Seasonal Pitch runs from
12 noon Friday 25th May to 10am Saturday 8th September
and is a SPECIAL RATE of only £ 1,350 offering fantastic value!
When choosing a Seasonal Pitch, you will be offered a choice of the Seasonal Pitches currently available, and have the opportunity to view the park facilities and fishing lakes, during your initial stay. We only offer Seasonal Pitches to previous guests, (or new guests who stay with us for a minimum of three nights, prior to choosing their Seasonal Pitch).
The Seasonal Pitch Fee includes a hardstanding pitch with 16amp electric hook-up, your touring caravan,
one awning, one car and up to two persons.
The prevailing nightly rate will apply to; an extra car/vehicle, a gazebo, pup/day tent, extra persons and any pets, these extra charges are payable on arrival for each holiday. There is a maximum of three pets allowed per pitch, please see our website for dog / pet information.
The Seasonal Pitch Fee does not include any fishing permit(s). If you decide to fish, each angler must purchase
the relevant permit(s) on arrival at the park for each holiday duration. If you vacate the park for one night or more, the current fishing permit is terminated. Fishing is only permitted whilst you are in residence on the park.
The Seasonal Pitch is for the use of the caravan owner named on the Seasonal Pitch Agreement, their family
and close friends. Strictly no subletting is permitted. Caravans must be max. 25ft / 7.6m length and
max. 12 years old, no Continental style, Hobby or Weippert Caravans are permitted.
The Seasonal Pitch has a maximum use of 28 consecutive nights at a time, after which time the pitch must be vacated by guests for a minimum of one night before the next holiday commences.You are entitled to station your Touring Caravan on the Park for the Season and to occupy your caravan for holiday / recreational purposes only. Seasonal Pitches cannot be used as a base for any work/school journeys or for any work, commercial or charitable purpose.
We also offer winter storage for your caravan, which is a great option when combined with a Seasonal Pitch.
Our 2018/19 Winter Storage period runs from 10am Saturday 8th September 2018 to 12noon Friday 24th May 2019 and is only £ 333.
For full Winter Storage details please click here.
If you are a current or previous guest and you wish to apply for a Seasonal Pitch, please email your request to
[email protected] and we will send you an application form, or ask for a printed form in Reception whilst you are staying with us.
Stay At Perran Springs
Family Camping
For a fun camping holiday, choose one of our spacious and level camping pitches. Combined with our relaxed environment, electric hook-ups and space for your car, you're sure to enjoy the under canvas experience. For the more traditional camper we also provide pitches without electric, but don't worry, our superb shower facilities are just a short walk away.
Touring Caravan
Looking for a spacious touring pitch, great facilities and a peaceful location. Then book one of our level caravan touring pitches or hardstandings, all with space for your awning and car. Our award winning showers, shop, laundry and lake meadow will ensure you have everything to make your holiday complete. See our park map to choose your preferred area of the park before booking.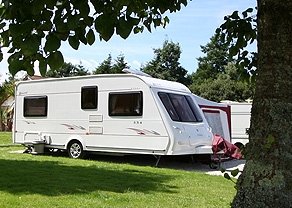 Holiday Homes
Our 6 berth Caravan Holiday Homes, offer all the essentials for those who want a little bit more… Featuring open plan living rooms, fully equipped kitchens and either two or three comfortable bedrooms. To help you relax, the caravan includes a TV and DVD player and plenty of soft seating. With a wooden picnic bench and space for your car, you can enjoy sitting outside or dining al fresco!
Super Eurotents
Want to go camping without buying all the equipment? Then choose our pre-erected, already pitched, fully equipped Super Eurotent glamping option. Sleeping up to 6 people, they are an amazing camping adventure for families. Super Eurotents have a kitchen area with hob, microwave, fridge, toaster and kettle. Three bedroom sections and a table and chairs. Book this holiday and you will see the glamping difference.
Pods
Like the idea of camping, but not the canvas! Then our glamping pods, with parking space, provide the ultimate back to nature experience. Sleep cosily in the timber pod, wake up refreshed and take a shower in our award winning amenities. Once you're ready for the day, just lockup your pod and maybe take a stroll around our Nature Trail and Lake Meadow, or venture out and start to explore Cornwall.
Guest Reviews
AWARDS & ACCREDITATIONS OVER THE YEARS….
Visit Cornwall Member
BH&HPA Full Members
David Bellamy GOLD Conservation Award Winner
Trip Advisor Winner
Loo of the Year Award Winner
Camping and Caravanning Club
South West Tourism Member
Website of the Year Winner
Recycle for Cornwall
COAST Project Member