We are very pleased to announce that Burt Baits have chosen to support our 3 fishing lakes at Perran Springs, for fishing holidays and fishing festivals for anglers staying on Perran Springs Holiday Park.
We welcome Burt Baits as the exclusive premium bait supplier in our small, but well stocked on-site fishing shop.
Having Burt Baits as our park's exclusive bait supplier also enables us at Perran Springs to ensure only high quality feed is entering our lakes. This supports our 'healthy fish system', which we have put into place and will be continuing throughout the year.
All bait MUST be purchased from our on-site fishing shop, so we are able to monitor the quality and quantity of bait going into the lakes. The high quality pellets from Burt, will aid the healthy growth of the carp in our lakes, benefiting both the carp and your future fishing holidays with us at Perran Springs.
Burt Baits:
"Being anglers ourselves , not everything revolves around profit, our main concern is giving you, the angler, the best baits, thus giving you the edge over the fish and your fellow competitors. Our baits have had extensive field testing and we always stick by the same rule. If we wouldn't be confident using it, then how could we expect you to be? We truly believe that by using the best ingredients on the market, including our top secret stimul8tor additives and by adding a personal touch to our range rather than just mass producing an inferior bait, we can give you that edge required to put more fish on the bank!

All of our baits are fully endorsed by one of the uk's top match anglers, Kieron Rich!"
The bait available to purchase on-site will include:
Stimul8or Groundbaits
Green Fishmeal 900g
Sweet Carp 900g
Chocolate Orange 900g
Black Betaine 900g
Glow Groundbait/Paste Hybrid
Green Crustacean 700g
Red Bloodworm 700g
PVA Friendly Glow Liquids
Green Crustacean 100 ml
Red Bloodworm 100 ml
PVA Friendly Flavourings
Chocolate Orange 100ml
Winter White 100ml
Krill 100ml
p-RED-ator 100ml
Hook and Hair Expander Pellets 240ml
Crab 6mm
Bad Ass Madras 6mm
Luncheon Meat 6mm
Scopex 4mm
Scopex 6mm
Coconut 4mm
Coconut 6mm
Snowballs 4mm
Snowballs 6mm
Chocolate Orange 4mm
Chocolate Orange 6mm
Flavoured Feed Pellets 700g
Winter Whites 2mm
Winter Whites 4mm
Winter Whites 6mm
Winter Whites 8mm
Krill 2mm
Krill 4mm
Krill 6mm
Krill 8mm
Chocolate Orange 2mm
Chocolate Orange 4mm
Chocolate Orange 6mm
Chocolate Orange 8mm
Carp Feed Pellet 700g
2mm
4mm
6mm
8mm
11mm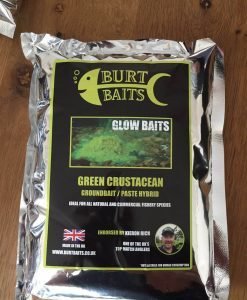 Plus a variety of shelf life boilies.
The Burt Bait founders will be visiting us to stock our shelves and to have a fishing session prior to us opening, so we will be updating our blog with photos and their catch at Perran Springs……
keep a look out!