Our specimen lake with carp to 24lb. Re-Stocked in Winter 2018 with lots of carp from 16lb to 18lb 
Dragonfly lake is the deepest and holds our specimen carp.
Dragonfly Lake is recommended for the more experienced and patient carp angler. The majority of carp in this lake are between 10 to 20lbs-plus. Fish in the deep gullies for best results.
There is also a good stamp of carp which have naturally bred in the lake, so if not targeting the large carp you can easily catch a good head of carp around 1lb along with large roach over 1lb.
This lake is a bit of a mystery, not as fished as much as Mayfly or Butterfly as it tends to be harder, but time and persistence can reap the rewards, and you may also catch the odd very large tench or bream as well.
All methods work well, if targeting large carp with bait alarms, then boilies or pellets work well.
To catch the larger specimen carp, we recommend you try using larger pellets and boilies sold from our shop.
Need some help – when you're here, just ask Andrew for advice regarding baits, tackle and the lakes.
Dragonfly Carp Fishing Lake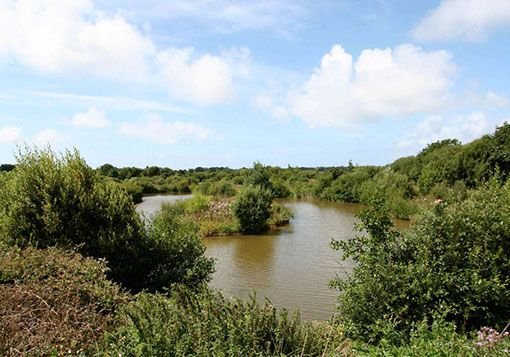 | | | |
| --- | --- | --- |
| Fishing Prices 8am to 10pm only Rods / Permits are Not Transferable | Permit Price for the first 1 to 7 consecutive days fishing | Price for additional 1 to 7 consecutive days fishing |
| Person - first rod aged 12 and over |  £24 | £14 |
| Person - first rod aged 11 and under |  £14 | £9 |
| Each additional rod aged 12+ (max 3 rods) |  £14 | £14 |
| Each additional rod aged 11- (max 3 rods) |  £9 | £9 |
Bivvies are allowed on Dragonfly Lake Only (whilst fishing during the daytime). Bivvies must be removed each day by dusk at the latest.

Dragonfly Lake Fishing Features
Fishing Tackle Shop Onsite
Fishing Swims Of All Sizes
Superb Margin Fishing
Fish Close Up To The Islands In All Lakes
Lakes Have Varying Water Depths
A Variety Of Water And Wetland Plants
Anglers of all levels of experience will enjoy catching the variety of fish including carp (common, mirror, leather, crucian and ghost), bream, tench, perch, rudd and roach – all in abundance large and small. See our guest's own Perran Springs holiday 'Big Catch'photos. Dogs / pets are not allowed in the Lake Meadow.
To complement our Lakes, the park shop offers a wide variety of coarse rods, reels, line, weights, floats, barbless hooks, disgorgers, pole accessories, landing nets, un-hooking mats, boxes, seats, pellets and flavoured baits.
WOW
Seriously impressed doesn't even come close to describing the venue. On arrival, the welcome was fantastic! The owners and staff are so friendly and happy, nothing is too much trouble for them. Walking around the park it was apparent that a lot of time and effort goes into making sure everything is well kept, clean and tidy. The shop is well setup with all your essentials to hand. The 3 fully stocked lakes look unbelievable, it would be easy to think you was sat around an old estate lake.
An Aerial View Of Perran Springs
do you have the skill to catch our large carp?