Like the idea of camping, but not the canvas! 
Then try our Heron or Moorhen Luxury Log Pod, 
each with a lovely raised decked area and a parking space.
Our Glamping Pods provide the ultimate back to nature holiday experience. Sleeping 2 people, they are a cosy, snug, (or romantic) getaway.
Glamping Holidays
In Cornwall
Wake up refreshed and take a shower in our award winning amenities. Once you're ready for the day, just lockup your pod and maybe take a stroll around our Nature Trail and Lake Meadow, or venture out and start to explore Cornwall.
Our Glamping Log Pods are the luxury level of camping:
Each wooden log pod (Heron or Moorhen) is a spacious 4.8m long and 2.49m wide, furnished with a TV unit, shelf unit, bedside tables and curtains. There is a small wooden table and two chairs, which can be used inside or out. The interior has a wooden laminated floor and the pod comes complete with an outdoor decking area for enjoying relaxed summer evenings. Our luxury log pods are built from wood, are insulated for warmth and have a metrotile roof.
Inside sockets are provided (electricity is included in the price), together with a Freeview TV, DVD Player, Kettle and cool box. Take your free hot showers in our park's amenity building. There is an exterior light in the porch as well as two spotlights inside the pod. The double glazed front door is lockable for peace of mind and there is a double-glazed window at the back. Parking space for one vehicle is provided. For safety there is a smoke/carbon monoxide detector, fire blanket and small extinguisher.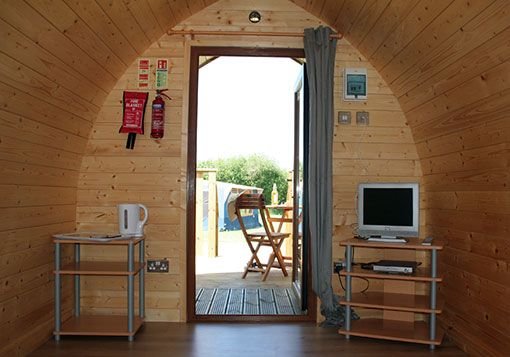 The Heron and Moorhen Glamping Log Pods include the following:
Kettle & cool box (remember to bring your own ice packs)
Freeview TV and DVD player
Shelf units
Bedside tables
Fold-up table and chairs
Outside decking area
BBQ ground slab (for your own disposable BBQ trays or small BBQ's)
Free hot showers (in amenity block) and free electricity
Remember to bring the following items with you:
Your own roll-up camping mats or blow-up air beds and pump
All bedding
Your own personal items
Tea towels
Bath and beach towels
All your cutlery and crockery
Disposable BBQ trays, or a small BBQ and your BBQ tools
Ice PacksRemember to bring everything you would bring if you were camping in your tent, except for the tent!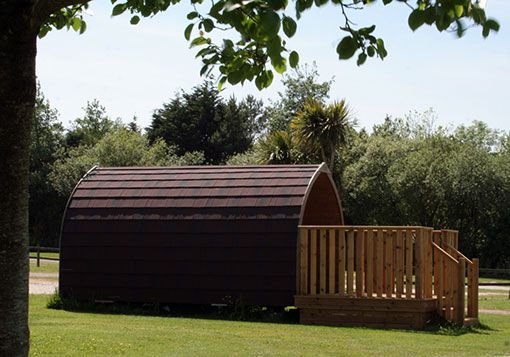 Couples Glamping Log Pods strictly sleep a max of 2 persons in total (inc. children and babies).
Pup/day tents or gazebos are not allowed in our Log Pod Area.
All our accommodation prices include ONE vehicle.
Maximum of one vehicle only allowed.
NO SMOKING OR PETS ARE ALLOWED IN OUR ACCOMMODATION.
The Pods are fantastic!!
This is a lovely campsite run by a friendly family. Well worth checking out if you want to stay near Perranporth. The wooden pods are amazing!! The Pods We stayed in a wooden pod which I believe was the debut year for this glamping option at this site. The pod was a decent size and the price was great. It does what it says on the tin.. it's camping but with a wooden roof over your head.
The Best Camping Holiday I Have Ever Had
Myself and my partner came to try "glamping" in one of the camping pods. We travelled by train, bus and skateboard from London with a lot of gear on us. When we arrived we were greeted by the very friendly family that owns the campsite. When we told them we didn't have a car, they all pitched in to help carry our bags to the pod! Which we were very grateful for because we had almost missed our train due to how inconvenient our bags were.
The first evening there we spent exploring the park, which is so well kept! We sat and watched some ducklings in the fishing lakes and wandered around the meadows, deciding that we should pick up a frisbee especially to come back to the meadow at some point with.
The pod itself was very clean, tidy and cosy – a pleasure to come back in the evenings to. It had a lovely decking area on which we could sit and have a drink. The pod had 4 plug sockets. You cannot cook on the decking area or in the pod (there is a block outside for cooking on) and the sink for washing up is right next to the pods.
The free wifi isn't fast enough to download photos/videos, but it works just fine for looking up bus times, tide times and other bits of information – which is all we needed it for. If you will be needing internet however, it was also difficult for us to get signal and we could not get 3G (on O2 and 3).
The toilets and showering facilities were situated very near to the pods and were also very well kept, clean and always had hot water. My partner commented that the toilets were as nice as in a hotel!
We didn't have a car but the park is a 10 minute walk (or 3 minute cycle) from the bus stop and small Londis shop. The bus takes about half an hour to get into Newquay. There is also a shop by the campsite and information about that is made clear on arrival.
The owners were wonderful from the beginning to the end. They have done a fantastic job with the site, they have had it for 25 years but it is as if it is brand new. We sometimes caught them around for a quick chat and even when we were leaving they were still there to help me out when I had lost my train ticket home.
Our Guests Return Year After Year
Central Location In Cornwall
Perran Springs Holiday Park is ideally positioned to explore all of Cornwall. With Perranporth beach only 2.5 miles away.
An Aerial View Of Perran Springs
Browse through our pod gallery, to give you an idea of the campsite and facilities we offer:
ideal for couples looking for a short break