THREE FANTASTIC FISHING LAKES
One of the top rated fishing holiday venues in Cornwall. 
Stay on the park and choose from three private lakes. 
Match, pleasure & specimen lakes provide a variety of angling options 
for both the beginner and more experienced angler.
Our three privately owned fully stocked coarse fishing lakes have carp, tench, bream, perch, rudd and roach.
The lakes feature islands and varying water depths, with features including reeds, wildflowers and water lilies. The Lakes are for the exclusive use of Perran Springs' residents only, by permit, available to purchase from the Reception. Friendly advice from Andrew is available, if needed.
Please note: All three lakes are open from 8am till dusk – this rule is in place so we can manage the lakes, but more importantly for the safety of teenagers who may be fishing alone. 
Fly fishing is not permitted. Please read our Lake Meadow and Fishing conditions for full tackle and bait details.
Fishing Method Advice:
Butterfly lake is ideal for pole or waggler fishing
Mayfly lake is suited for pole or using a feeder / method rod
Dragonfly is more suited for carp rods & bite alarms, or if using a pole ensure strong elastic is used.
The Perfect Fishing Holiday In Cornwall
If you're looking for a perfect fishing holiday in Cornwall look no further, as we have guests return year after year due to the excellent fishing available. It's not uncommon to catch over 70lb of fish during one day.
Fishing Holidays
In Cornwall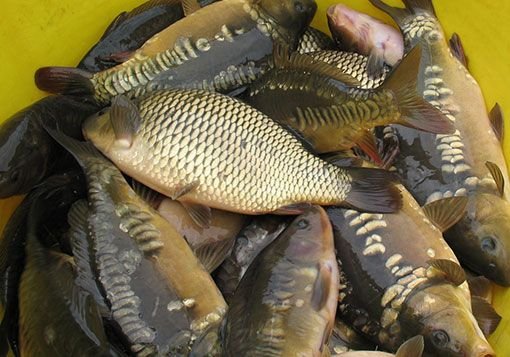 Carp Strains
The carp strains we stock are the classic Leneys which are the original English strain farmed by Donald Leney, long scaly and a steady grower with more history than any other. The second strain is the German Dinkensbhul, which is shorter framed less scaled Carp but with an incredible growth rate and very domesticated which is ideally suited for farm and fishery life. By crossing the two strains we have created fast growing Carp which are a mix of leathers, mirrors, linear's and fully scaled, perfect for a good mix within a fishery.
Regular Stocking Program
For your enjoyment we ensure a regular stocking schedule each winter. Our stock is provided by Priory Fishery in Devon, a well known fish farm who provide fisheries across the country and are known for their fast growing carp. All their fish are delivered to us with an up to date health check, and delivered during the winter when fish are more comfortable to be transferred. Throughout the winter we feed regularly with a mix of Coppens & Skrettling pellets.
| | | |
| --- | --- | --- |
| Fishing Prices 8am to 10pm only Rods / Permits are Not Transferable | Permit Price for the first 1 to 7 consecutive days fishing | Price for additional 1 to 7 consecutive days fishing |
| Person - first rod aged 12 and over |  £24 | £14 |
| Person - first rod aged 11 and under |  £14 | £9 |
| Each additional rod aged 12+ (max 3 rods) |  £14 | £14 |
| Each additional rod aged 11- (max 3 rods) |  £9 | £9 |
Bivvies are allowed on Dragonfly Lake Only (whilst fishing during the daytime). Bivvies must be removed each day by dusk at the latest.
Anglers of all levels of experience will enjoy catching the variety of fish including carp (common, mirror, leather, crucian and ghost), bream, tench, perch, rudd and roach – all in abundance large and small. See our guest's own Perran Springs holiday 'Big Catch'photos. Dogs / pets are not allowed in the Lake Meadow.
To complement our Lakes, the park shop offers a wide variety of coarse rods, reels, line, weights, floats, barbless hooks, disgorgers, pole accessories, landing nets, un-hooking mats, boxes, seats, pellets and flavoured baits.
WOW
Seriously impressed doesn't even come close to describing the venue. On arrival, the welcome was fantastic! The owners and staff are so friendly and happy, nothing is too much trouble for them. Walking around the park it was apparent that a lot of time and effort goes into making sure everything is well kept, clean and tidy. The shop is well setup with all your essentials to hand. The 3 fully stocked lakes look unbelievable, it would be easy to think you was sat around an old estate lake.
An Aerial View Of Perran Springs
Three superb fishing lakes – book now!