An excellent all-round lake for catching large carp, 
tench, bream, perch, rudd and roach. 
Experienced anglers have caught 100lb+ in just one fishing session!
Mayfly Lake was established over twenty years ago, and holds a variety of species
Double figure carp, perch to 4.5lb, big tench and big bream are heavily stocked in Mayfly lake. If you like fishing for silvers, there are also skimmers, and large rudd and roach.
Depths range from 2ft to 5ft. Fishing near the margins or close to the 2 prominent waterlilies often produces the best catch weights.
Pole fishing is popular, but the fish are large and fight very hard, so please ensure you have the correct setup and strong elastic! Feeder is also a good method, casting to the far banks.
On a good day, you can easily catch over 100lb of carp during a 5hr fishing session. The average stamp of carp in Mayfly is around 6lb.
Baits that work well, and which are stocked in our shop include:
– Hook and Hair Expander Pellets 6mm
– 8mm Chocolate Orange Feed Pellets (to band or drill)
– Sweetcorn
– Luncheon Meat
– Bread
– Chocolate Orange Groundbait
We sell pole floats, pole elastic and accessories in our shop. Also a selection of feeders from Cresta.
We last re-stocked Mayfly in November 2017, with tench and bream over 2lb.
Need some help – when you're here, just ask Andrew for advice regarding baits, tackle and the lakes.
Mayfly Coarse & Carp Fishing Lake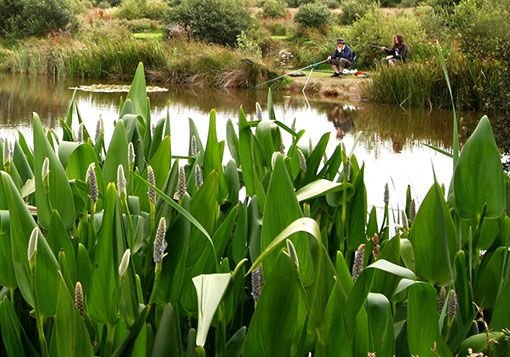 | | | |
| --- | --- | --- |
| Fishing Prices 8am to 10pm only Rods / Permits are Not Transferable | Permit Price for the first 1 to 7 consecutive days fishing | Price for additional 1 to 7 consecutive days fishing |
| Person - first rod aged 12 and over |  £24 | £14 |
| Person - first rod aged 11 and under |  £14 | £9 |
| Each additional rod aged 12+ (max 3 rods) |  £14 | £14 |
| Each additional rod aged 11- (max 3 rods) |  £9 | £9 |
Bivvies are allowed on Dragonfly Lake Only (whilst fishing during the daytime). Bivvies must be removed each day by dusk at the latest.
Mayfly Lake Fishing Features
Fishing Tackle Shop Onsite
Fishing Swims Of All Sizes
Superb Margin Fishing
Fish Close Up To The Islands In All Lakes
Lakes Have Varying Water Depths
A Variety Of Water And Wetland Plants
Anglers of all levels of experience will enjoy catching the variety of fish including carp (common, mirror, leather, crucian and ghost), bream, tench, perch, rudd and roach – all in abundance large and small. See our guest's own Perran Springs holiday 'Big Catch'photos. Dogs / pets are not allowed in the Lake Meadow.
To complement our Lakes, the park shop offers a wide variety of coarse rods, reels, line, weights, floats, barbless hooks, disgorgers, pole accessories, landing nets, un-hooking mats, boxes, seats, pellets and flavoured baits.
WOW
Seriously impressed doesn't even come close to describing the venue. On arrival, the welcome was fantastic! The owners and staff are so friendly and happy, nothing is too much trouble for them. Walking around the park it was apparent that a lot of time and effort goes into making sure everything is well kept, clean and tidy. The shop is well setup with all your essentials to hand. The 3 fully stocked lakes look unbelievable, it would be easy to think you was sat around an old estate lake.
A Week In The Lapwing Caravan
Had a very enjoyable week on this well laid out and well run site. Using it as a base to visit the surrounding towns and atractions .the owners and staff could not of been more helpful .with the lakes being very close we where able to grab a few hours fishing after returning on the afternoons I found fishing the margins with pellets very productive catching up to to twenty carp up to about nine pounds .in all I would recommend this site to anybody hopefully we will be back next year
An Aerial View Of Perran Springs
haevily stocked with the average stamp of carp at 6lb