Fantastic Carp & Coarse Fishing At Perran Springs Holiday Park
Our three privately owned stocked coarse fishing lakes have islands and varying water depths, with features including reeds, wildflowers and water lilies. The Lakes are for the exclusive use of Perran Springs' residents only, by permit, available to purchase from the Reception. Friendly advice from Andrew is available, if needed.
Please note: All three lakes are open from 8am till 10pm – this rule is in place so we can manage the lakes, but more importantly for the safety of teenagers who are fishing alone.
Advice: Most anglers catch the majority of fish from 9am to 12 Mid-day, then from 2pm onwards. Fishing close into the banks and islands will see your catch rate increase.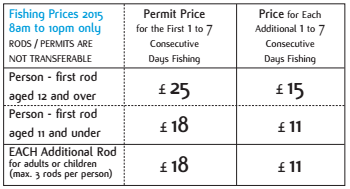 If you're looking for a perfect fishing holiday in Cornwall look no further, as we have guests return year after year due to the excellent fishing available. It's not uncommon to catch over 70lb of fish during one day.
Anglers of all levels of experience will enjoy catching the variety of fish including carp (common, mirror, leather, crucian and ghost), bream, tench, perch, rudd and roach – all in abundance large and small. See our guest's own Perran Springs holiday 'Big Catch' photos. Dogs / pets are not allowed in the Lake Meadow.
To complement our Lakes, the park shop offers a wide variety of coarse rods, reels (inc Shakespeare & Spro), line, weights, floats, barbless hooks, disgorgers, pole accessories, landing nets, un-hooking mats, boxes, seats, pellets and flavoured baits.
The majority of our carp are stocked by Priory Fishery in Devon:
The carp strains we stock are the classic Leneys which are the original English strain farmed by Donald Leney, long scaly and a steady grower with more history than any other. The second strain is the German Dinkensbhul, which is shorter framed less scaled Carp but with an incredible growth rate and very domesticated which is ideally suited for farm and fishery life. By crossing the two strains we have created fast growing Carp which are a mix of leathers, mirrors, linear's and fully scaled, perfect for a good mix within a fishery.
View Our Fishing Lakes
Mayfly Fishing Lake
Mayfly Lake was established over twenty years ago, and holds a variety of species including 20lb-plus carp, big tench and big bream
Butterfly Fishing Lake
Butterfly Lake is great for family fishing, with carp up to 15lbs, tench, big perch, rudd, roach and bream. Best method is with a pole  by the islands. Total catches of 50lb-plus are not uncommon.
Dragonfly Fishing Lake
Dragonfly Lake is recommended for the more experienced and patient carp angler. The majority of carp in this lake are between 10 to 20lbs-plus, with a few bigger ones in-between.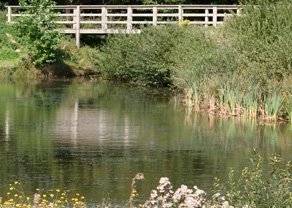 BEFORE FISHING, permits must be obtained from Perran Springs Reception
A National Rod License is required
All children under the age of 15 must be supervised by an adult.
Handle all fish with care. With the exception of taking photographs, all fish must be returned to the water immediately.
When returning fish to the water, please place them in carefully. Do not throw them back.
Barbed Hooks
Keepnets
Trout Pellets
Cat Meat
FULL Fishing Conditions - Please read before you fish
Fishing and Lake Meadow Conditions
Respect the Fish in our Lakes and Enjoy your Fishing
Fishing rods, reels, tackle and bait is for sale in the park shop. The fishing lakes are for use of Perran Springs' residents only. If you are an all man/woman party or mixed fishing-group all members of your party must be anglers and each must purchase a Perran Springs fishing permit. Dogs / Pets are not allowed in the Lake Meadow.
Fishing is not allowed without a permit. Before fishing, all the fishing member(s) of the unit, must visit the Reception to purchase the fishing permit(s). A permit is required per person, maximum of three rods per person only. Permits and/or rods are not transferable under any circumstances. The permit must be carried with you during each fishing session. If any person is found fishing without the correct permit(s), the relevant permit fee(s) will be doubled, and will be payable immediately in cash. Fishing is strictly only allowed between 

8am and 10pm

 daily. No fishing on your day of departure. In addition a current Environment Agency Rod Licence is required (for anglers aged 12 and over) available from The Post Office. These lakes are checked by EA Officers. If you are caught fishing without the Licence you could be fined up to £2,500.
For safety, the Lake Meadow must not be entered or used between 

10pm and 8am

. Parents are responsible for the safety of their children at all times. Children must be accompanied and fully supervised by a competent adult at all times, either when fishing, or being anywhere in the lake meadow. Anglers fish entirely at their own risk.
Fishing is permitted on the three fishing lakes, at marked swims only. Please fish in front of you, do not fish between swims. No reserving of swims is allowed. You must reel in if you leave your peg. If you wish to swap lakes, take all your tackle from the original swim with you. Please keep to the cut grass footpaths in the meadow. No bivvies, tents, cooking, radios, bicycles or vehicles are allowed in the Lake Meadow at any time. No fly fishing, or sea fishing techniques under any circumstances. Remove all discarded tackle, bottles, bait and other waste and place in the bin provided. Respect the varied wildlife, do not damage the banks, fish, flora or fauna, litter the lake meadow, or the use the meadow or lakes as a toilet.
The lake meadow is for quiet fishing, sitting and walking only and is not a play area or place for parties. Strictly no paddling or swimming in the lakes or nature pond. Do not interfere with, fish on, or use gNat's Nature Pond for pond dipping. Parents must fully supervise their children and ensure their children do not ingest any plants. Please be aware the paths and bridges may be slippery when wet.
Anyone found to be in breach of any of the conditions, may at our discretion be asked to leave the park, together with the rest of their party, with no refund of any park fees paid in advance. Any damage will be charged separately and will be paid for by the offending person(s) immediately in cash. Spot checks will be made.
These conditions are here to stop the spread of fish disease and to protect our fish: All landing nets, mats, weight slings, or anything that comes in contact with fish must be dipped in the chemical dip tank for a minimum of 5 minutes, prior to each fishing session. The dip tank is located inside the bottom entrance into the Lake Meadow. Never use a wet net which has been used on a lake before or during your stay at Perran Springs (the net must be dried in direct sunlight).
Compulsory Tackle and Equipment: Each Angler must use recognised professional balanced tackle, a padded unhooking mat, knotless landing net (kite marked, or only nets sold in our shop) and disgorger at all times. Main line not less than 4lb with 3lb hook length. Maximum main line 12lb. No braided or double-strength line to be used whatsoever. Pole- minimum  recommended elastic of 10 and 3lb hook length. Strictly barbless hooks only, no nipped of flattened barbs. Maximum hook size 10. No keep nets at any time, no fixed leads or fixed feeders, no Zig Rigs, no plugs, no spinners, no crab lines or children's nets or beach rock pooling equipment.
We apply the following bait rules so we know what type of bait is going into the lake, and importantly, how much of it. Over use of bait can poison or remove oxygen from the lake and result in a fish kill – so please use wisely and do not throw unwanted bait into the lakes. Strictly all boilies, carp / halibut / crab pellets, particles and groundbait must be purchased from our Perran Springs Park Shop only.
The Following Bait is Not Allowed: No trout pellets, no nut based bait, no cat or dog meat.
Only Prepared Particle Bait Bought from Our Perran Springs Park Shop is Permitted as Follows: Ground bait is to be used in moderation, strictly a max. of 1kg per day. Pellets max. 900g per day. Prepared hemp Max 12oz bag. Max. 1 tin of luncheon meat per day. Boilies are permitted, but only feed with the cast, ie. in small PVA mesh or small PVA bags (not thrown in by the handful). All must be purchased from our shop only, not doing so, will be in breach of the conditions.
Landing Fish and Returning Fish to Water: All fish must be carefully netted when caught. No swinging-in of fish, or handling of fish in or back-out to water. All fish caught must be quickly and gently returned to the water at the point of capture, by careful use of a landing net. When returning fish to the water please allow enough time for the fish to recover before releasing it. The removal of fish, or causing damage or distress to any fish is strictly prohibited. Never transfer a fish from one lake to another.
Unhooking Fish: You must carry and always use a good quality disgorger. Fish up to 4lb must be unhooked in the net, held on your knee. Fish above 4lb must be unhooked on a padded unhooking mat. The use of Klin-ik antiseptic to cleanse the hook wound and any other fish wound is recommended. Please report any case of injured fish or wildlife to a member of our family. For deep hooked fish; cut the line as close as possible to the hook and gently return the fish to the water immediately. Never pull a deep hook free, as in most cases this will be fatal to the fish and in the least cause damage and distress.
Handling, Weighing and Photographing: Where possible try not to handle fish. But if required, hold the underneath of the net to hold fish to disgorge. If it is necessary to hold a fish, use wet hands (never use a dry towel). If your 'Big Catch' photographs are being taken – gently hold the fish low to the ground over a soft padded pre-wetted unhooking mat. When preparing to take a photo, wet the fish with water from the lake. Only weigh fish in wet slings, knotless weigh bags. Dropping a fish on the bank causes stress and damage, resulting in disease and can often be fatal.