The 2nd of April was the warmest day of the year so far. So I cut some grass on the campsite and with the evenings getting lighter I decided to go down the lakes for a few hours fishing.
Testing out Burt Baits, our new bait sponsor in 2017!
Chocolate Orange Catches Well!
I was using Burt Baits chocolate orange ground bait, which does smell nice!
This year we have teamed up with Burt Baits and they are our bait supplier this year, so I thought today was a good test to try out the ground baits on offer.
Having cupped in a few balls of the chocolate orange, I started to catch lots of silvers some nice sized rudd and plump roach. Catching silvers each time I shipped the pole out, this is great if you're in a fishing match, but I like to target carp mainly.
I kept feeding regular, and the chocolate orange was turning the water a cloudy orange and the carp started to move in.
Fishing on the pole, only 3 sections out and about 4ft to the bottom, I caught quite regular and had 15 carp in total, and 30+ rudd and roach. I also had an eel about 3lb!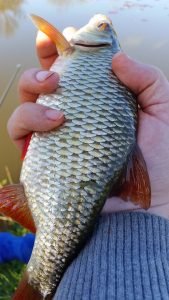 The carp were a mix of common and mirror ranging between 1lb and 7lb. I think the sudden warmer weather putt them off the feed a little as most of the carp were just basking in the sun on the surface.
Overall, I was extremely happy with the few hours fishing and will be testing out more of Burt Baits in the coming weeks.
To see the full list of Burt Baits we will be selling please view this previous post on Burt Baits supports Perran Springs Fishing Lakes.
When camping at Perran Springs, please feel free to ask Andrew for any advice on how to fish the lakes, he will be happy to help, and is around most evenings and at the weekends.