After a very sunny Saturday, Sunday afternoon (9th April 2017) was a bit cooler and a little breezy, which was probably better for carp fishing!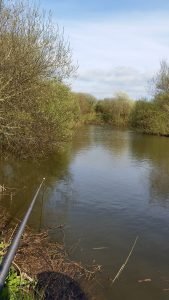 I started fishing at 2 pm, fishing on Dragonfly lake. This is the larger of our 3 lakes and one I rarely fish, but for out and out carp fishing it is the lake I would recommend.
The day before I had been cutting some willows down on the lake, so the swims were a lot more accessible and clear for shipping the pole out.
I was loose fed maggots and used pellet as my hook-bait. We previously stocked this lake over 6 years ago, with carp 5lb plus, I also know there are some large carp in here and a big ghost carp which I caught a few years ago at 18 lb.
However, today I didn't catch any huge fish, but a lot in the ½ lb to 2 lb range, which is good news as all these have bred in the lake.
All the carp were all in excellent condition, and put up a great fight. I'm sure most of these carp had never been caught before!
Using the pole, I was targeting 2 lines, one 6 sections out, in the middle, and the other very close in, just 1 ft out from the bank, just under the willows I had cut the day before. Feeding little but often I was catching every time, including a lot of large roach, common and mirror carp.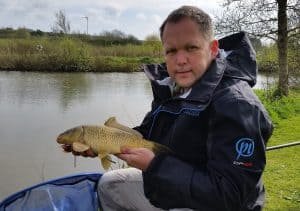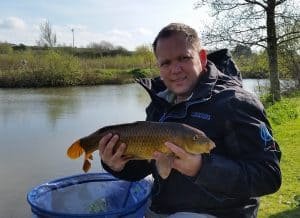 In the shallows, it was only about 1ft in depth, and the swim was cloudy with carp feeding and I could see their fins, so easy targets.
Fishing further out, about 4 ft in depth, I was catching the odd carp, but a lot or large roach, just under a 1 lb.
Overall a good few hours fishing!
I kept the smaller fish in a keep net, just for the purpose of taking some photos.
If you are looking for a carp fishing holiday in Cornwall, then please visit our fishing pages, and then book your camping holiday online.