If you're interested in delving into the depths of Cornwall's seafaring past then the National Maritime Museum in Falmouth is the perfect place to visit. As an award winning museum it is one of Cornwall's top attractions and is dedicated to preserving and educating visitors about the rich maritime history of the region.
Throughout its history the sea has been a source of food, livelihood and trade for Cornwall – with Falmouth playing a big role in it. As the third-deepest natural harbor in the world, the town on the south coast of Cornwall has often been the starting point for many seafaring expeditions, and is the perfect location for the National Maritime Museum.
Front Row Seats to Cornwall's Maritime History
Spanning five floors and totaling 15 different galleries, the National Maritime Museum at Falmouth has a mix of permanent and temporary or seasonal attractions. Out of these three are devoted solely to a full recollection of the role the sea has played in Cornwall and includes its early fishing, boat building, trading, as well as wrecks and emigration.
Even if you aren't much of a sailor yourself, some of the stories the exhibitions bring to life will certainly pique your interest. In particular you will learn about the courageous small Packet ships operating out of Falmouth and braving the sea to deliver mail to a fledgling empire, as well as the harbors later history as a jumping off point for D-Day, and the many other expeditions and conquests that embarked from it.

Aside from the exhibitions themselves, there are several other interesting activities and sights within the museum too. One of its biggest draws is definitely the 100 foot tall Lookout Tower that provides stunning open views of Falmouth harbor and the numerous vessels that are moored there from cruise ships to navy vessels.
Another 'must see' attraction is the Tidal Zone which is located beneath the harbor and has 22 foot windows that will give you a spectacular view of its natural underwater environment. Expect to see lots of fish and shrimp, as well as the occasional seal playfully frolicking above.
All that is still just scratching the surface of what the National Maritime Museum has to offer, and there are countless other exhibitions and activities worth exploring. For kids there are a variety of fun-filled educational programs, particularly during the holiday season.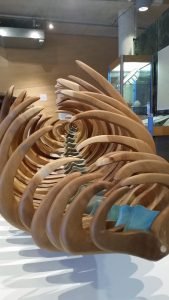 It should be easy to see why the National Maritime Museum at Falmouth is billed as one of Cornwall's top attractions, as it really does provide an expansive view into its rich history. Landlubber or not, it is worth a visit – especially if you coincide it with a guest exhibition that you're interested in.